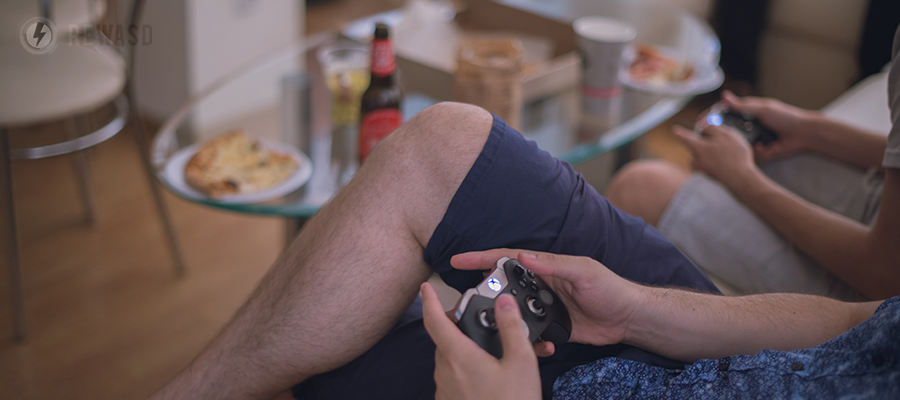 That's not a surprise that a LOT of gamers look for ways of how to use Xbox One controller on PC instead of playing with keyboard. Or if you're a console veteran, you will definitely use Xbox One controller on PC. And although PC + controller duet is perfect, you might face a few problems:
Controller support is not always performing properly. It's tempting and exciting to see the "Full controller support" label in gameshop, but what if it doesn't work well on practice?
The game is old and is not for controller. For example, Resident Evil 4 and Silent Hill: Homecoming controller support on PC is unavailable initially. And if you want to use Xbox One controller on PC you need a third-party help!
You can't stop dreaming of the custom controller scheme for the most personal gameplay, and to solve the How to use Xbox One controller on PC question forever.
Once you connect and get ready to use Xbox One controller on PC the game doesn't recognize it. Even if it's No Man's Sky that came out a year ago and seems to work with top-popular gaming devices.
Apparently, the one thing that misses is customization and PC controller support. That's why we'd like to tell you about a great tool that will solve all-the-mentioned problems and let you fully use Xbox One controller on PC to steal all the thunder from your opponents! Or NPCs :)
reWASD is the best gamepad mapper, it's one of the ways of how to use Xbox One controller on PC. It permits to fully reassign all buttons, thus — providing controller support for any existing game. Thanks to the gamers' enthusiasm, some controller support profiles are already available in our community. If you scroll through community, you'll see lots of configs for different games.
For example, I had to make an Outlast 2 сontroller bindings config, because the gamepad wasn't supported in my particular case.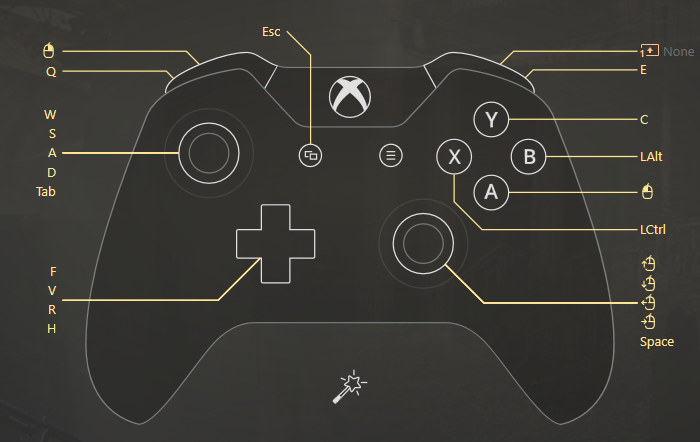 There's also a great example of a game with no gamepad maintenance: one of our users made a config for GTA San Andreas PC controller support!
And there's another category of configs: the ones, particularly for Xbox Elite. Paddles are not supported by 99% of PC games, so Elite controller owners need a third-party software to revive those 4 majestic buttons. Guild Wars 2 PC controller support is a great example of an elite-only config.
If you have enough enthusiasm to create your own configuration for a certain game (and maybe to share one in reWASD community later :P ), you need to know a few things:
Before you remap and use Xbox One controller on PC, try to play the game with keyboard to make sure you know all the controls and how often you use them
Divide keybindings by groups of action
Each game genre has it's own gameplay specifics while you use Xbox One controller on PC
If the game already has controller support you'd like to change — don't forget to unmap controller buttons.
To learn more about the specifics of different game genres and about these tips concerning how to use Xbox One controller on PC — visit the blog post where we reveal all the basic tips on how to map controller to keyboard
If you're feeling super confident and ready to remap and create your first config — follow the steps below:
Download and install reWASD

Connect your controller to PC. If it's connected, you'll see the indicator in the bottom of reWASD window.

Create a new profile, the config creates automatically. Start remapping!

With reWASD, you manage all the mappings from one window. Just click on the controller key that you see on the screen and customize it! reWASD also differs reWASD mapping (bindings keyboard and mouse keys to controller buttons) and hardware (button) mapping (controller buttons to controller buttons). Click how to do button mapping to learn more about it!

reWASD also has a handy hooking feature — you can press the controller of keyboard key to pick it, instead scrolling the combobox. Do you feel how easy is the answer to "How to use Xbox One controller on PC"? ;)

D-pad section — map 4 directions of D-pad here.

Left and right stick — configure how your stick will be mapped. Apart from reWASD and hardware mapping there's a Stick Zone option — you can learn more about it in tips about how to remap Xbox Controller. You can also tune the deadzone, Y and X-axis inversion and stick response and learn more about calibrate Xbox One controller sticks from our post!

Triggers section — permits to map trigger clicks and zones and define the trigger deadzone.

My favorite section — paddles! It's super easy and pleasant, 'cause reWASD is tailor made for mapping Elite Paddles on PC. And it can't be easier — pick a paddle, pick keyboard key, choose hardware mapping, if needed, and done!

When we use Xbox One controller on PC, we emulate the keyboard-mouse actions for the gamepad. This emulation may require additional tuning, so mouse settings are coming next.To learn more about how they work, go to how to use controller as mouse post.

The more you know: reWASD differs digital (button clicks) and analog (stick ups and downs, mouse moves) controls. Since reWASD 1.4, you can map analog controls on digital ones. That's why you need to configure how exactly your emulated mouse will perform during gameplay.

Still not sure why and how to use Xbox One controller on PC? Here's a thing you'll never get on the console ;) Shifts! Increase the number of possible assignments from 10 to 50 (on Xbox 360, One, DS4 and DS3 controllers) and from 14 to 70 (on Xbox Elite controller). Wonder how to do this kind of miracle? Check out the how to use shifts post.

Once you've completed all-the-above customization, you can Apply. If the config applied successfully — you'll see this indicator:

If you're in a mood to share your work with the world — press "Share". It's easy as pie — just set the title to your config before you go. This way you'll help other people who don't know how to use Xbox One controller on PC to make it work.

Once you're done with the registration, you can access your reWASD Community account, where you'll be able to manage your configs, look for other users' ones and discuss the philosophy of remapping :)
If you have questions about how to use Xbox Controller on PC — don't hesitate to contact us in comments below or write us on Facebook. Any feedback, idea and suggestion are welcome.
To keep your hand on the pulse, follow our Facebook page or Pinterest board, we'll let you know each time a new post appears in reWASD blog. We also have a YouTube channel where we post videos with remapping tips-and-tricks and gameplay.