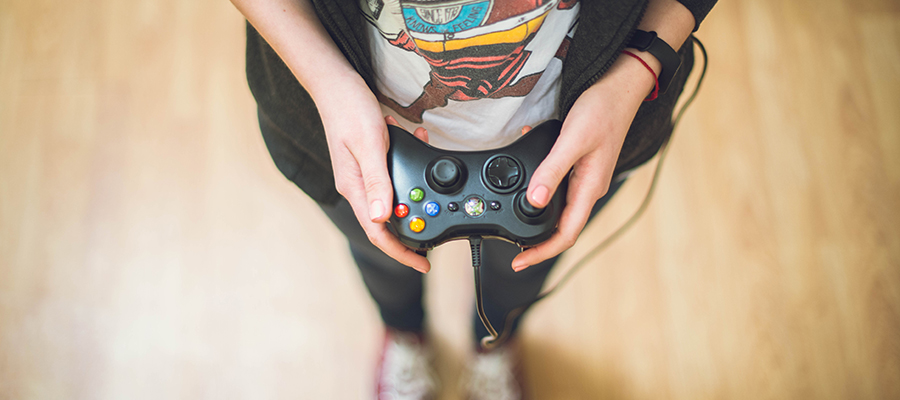 reWASD 1.4.1. is the latest version of our gamepad mapper, and it's lit! We've added some cool new options you, guys, were asking for and fixed minor bugs. The grandest change is that now you can use Xbox Controller as mouse. Yeah, it sounds like this feature appeared a long time ago, but now it went to the new level: you finally can map analog controls to digital ones! Map mouse moves and scrolls on D-pad, adjust speed and acceleration and many more… You can find the detailed guide how to use your controller as mouse below.
Apart from using controller buttons as mouse the latest reWASD release brings the following features:
Xbox One S Bluetooth Connection Support
Tired of endless wires? Try connecting your Xbox One S via bluetooth — reWASD will recognize your gamepad and you'll be able to map Xbox One S controller to keyboard!
reWASD Community Updates — Personal Space Arrives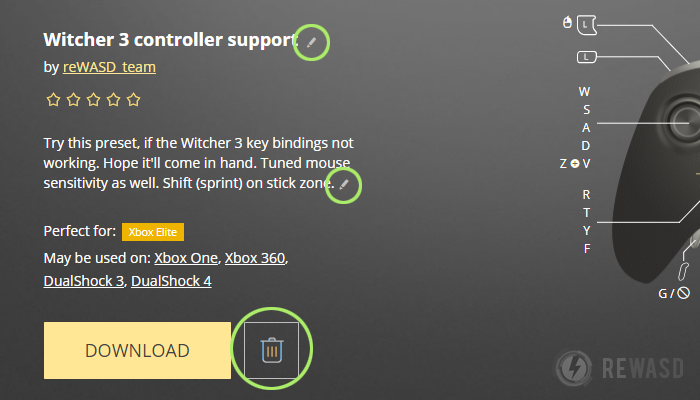 If you haven't checked the reWASD Community yet — it's your chance to complete the daily need for awesomeness. And if you've uploaded your fifth config recently, first of all, — Thank you! Secondly — here are some novelties you'll like:
Register via Facebook — it can't get easier
One-step registration through Facebook is now available.
Each user has the personal account, where he can see all the uploaded configs, change their names and descriptions, delete configs; change the profile picture, email and username.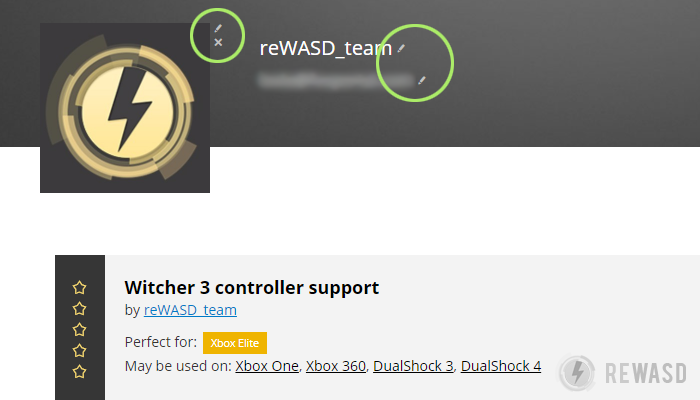 Note: If you updated mapping and want to re-share, please delete the first one and upload the final config.
All You Need is reWASD Driver (Game Controller Mapper)!
Just a short reminder: although reWASD is the greatest gamepad mapper of all times, if you don't use it properly it won't work as you expect it to. If reWASD doesn't recognize your controller please make sure you've installed the reWASD driver. Once it's installed, you can map your controller to keyboard, use Xbox Controller as mouse and apply button mapping!
Use Xbox Controller as Mouse: Map Mouse to D-Pad!
Here's something you need to know before you use controller as mouse: a lot of changes came with reWASD 1.4.1 release. Now you can fully customize and adjust the way your emulated mouse acts during gameplay. There are four mouse settings you can tune: sensitivity, speed, acceleration and scroll speed: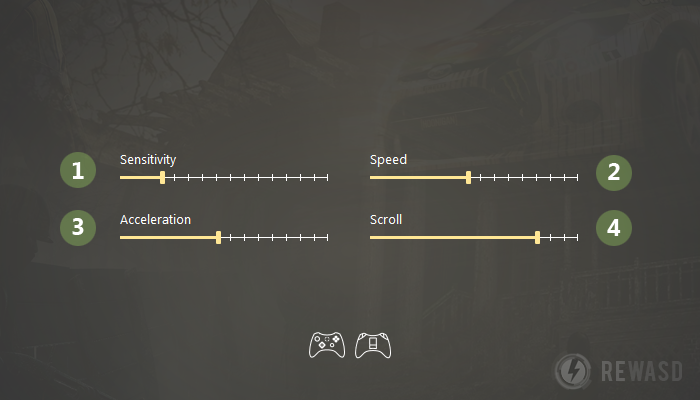 Mouse Sensitivity — It's the first option you need to adjust before you use Xbox Controller as mouse. It works both for digital (buttons) and analog (sticks and triggers) controls. The way you set this option depends on the particular game and control: if you're playing the first-person shooter game and you set mouse ups and downs to a stick — you'd better lower this setting, so your camera won't rush all over the screen.
Mouse Speed — This option permits adjusting mouse speed ONLY IF your mouse direction is assigned to a digital control (to one of the buttons). Speed is static, the higher it is the faster your cursor moves. Nothing complicated, just adjust and you'll see how great your controller works as mouse.
Mouse Acceleration — Another awesome option to adjust while doing the button mapping on Xbox Controller — tune mouse acceleration ONLY IF your mouse is assigned to a digital control (to one of the buttons). Acceleration is a dynamical index, the higher it is the quicker your mouse will speed up.
Scroll speed — This option permits adjusting how fast your scrolls are. It works both for digital (buttons) and analog (sticks and triggers) controls. reWASD permits to use controller buttons as mouse scrolls and tune the speed for a particular game.
For the better experience, you can check out the video, where we use Xbox Controller as mouse, reveal reWASD features and demonstrate how mouse adjustments work on Outlast 2 gameplay. Once you'll finish watching you'll understand that using controller as mouse is not that hard if you're using the right gamepad mapper :)
We're always glad to hear anything from you, so if you have something to say, reach out to us wherever you feel comfortable: Discord text chat, on Facebook, or on reWASD Forum. Make sure to follow us on Pinterest, Reddit, and YouTube to keep your hand on the pulse.