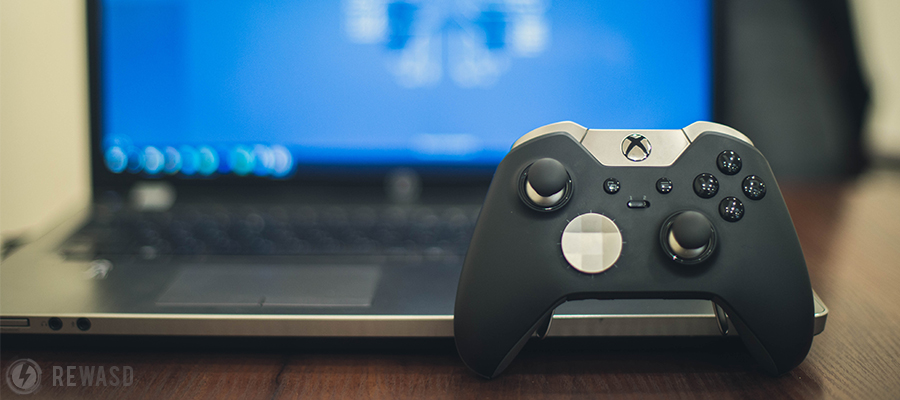 Button mapping was one of the surprisingly demanded feature to implement to our gamepad mapper. Thanks to efforts of our team and your feedback, reWASD can not only map Xbox controller to keyboard but reassign hardware controller buttons just like Xbox controller app.
How to map controller to keyboard keys and controller to controller buttons?
Download and install reWASD by following the link below. You can try our gamepad mapper for free.

Connect your сontroller to PC. You will see it in reWASD too.

Create a new profile, the config creates automatically. Start remapping!
First, let's map controller to keyboard. Choose a controller button in the main window directly or press it, then do the same with the keyboard and "reWASD mapping" list. What does it mean? It means that each time you press a controller button, reWASD will emulate this keyboard key.

If you intend to do the Hardware mapping (reassign controller to controller buttons), you go to "Gamepad mapping" and choose the appropriate controller button.

Go back to the main mappings screen, remap other controller buttons if needed, press "Apply".

That's it! You can enjoy the config you've just created.
Don't forget about the awesome hooking feature: you can press the button on controller that you want to remap, reWASD will hook it right away, as well as keyboard keys.
Hardware mapping is a useful thing: if you've used Xbox Accessories app before you can forget about it now and use reWASD only both for mapping controller to keyboard and for hardware remapping.
What Button mapping reWASD does?
You can reassign face buttons (XYAB), both bumpers, both triggers presses, sticks clicks and axes, additional controller buttons (View, Menu and Xbox button) and D-pad to each other.
The last hardware remapping option — "Unmapped". Actually, unmap is the best choice if you map controller to keyboard. When you assign a control to the keyboard key, you need to overlap the native action. Choose "Unmapped"' — and you won't get doubled actions in the game. Want to get more details? Read about how to unmap controller buttons in our previous post.
We hope that this guide was useful for you and that you're enjoying playing PC games with controller and reWASD tandem. Follow our social media pages (Facebook and Pinterest) for reWASD updates, gaming news, configs and more!