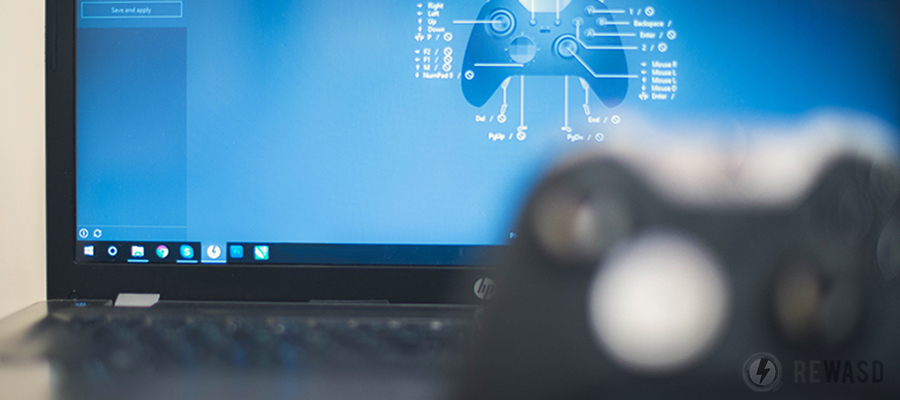 No matter how long and how often you play video games, 97% of gamers have tried to change the uncomfortable controls at least once in their gaming experience. If you use game controller for PC, there are more problems to solve. Due to the lack of in-game controller support, gamepads need to be remapped, so "What software can I use for Xbox Elite Controller mapping?" is a question gamers often ask.
You have controller remapping tools to choose from: Microsoft offers a native Xbox Accessories app that has plenty of options to configure your game controller for PC. Although, if you're an Xbox Elite Controller owner it doesn't solve all your problems. After purchasing Elite Controller you might have noticed something behind the stylish design and ergonomic shape — Elite paddles. Four additional buttons that serve to make your gaming experience better.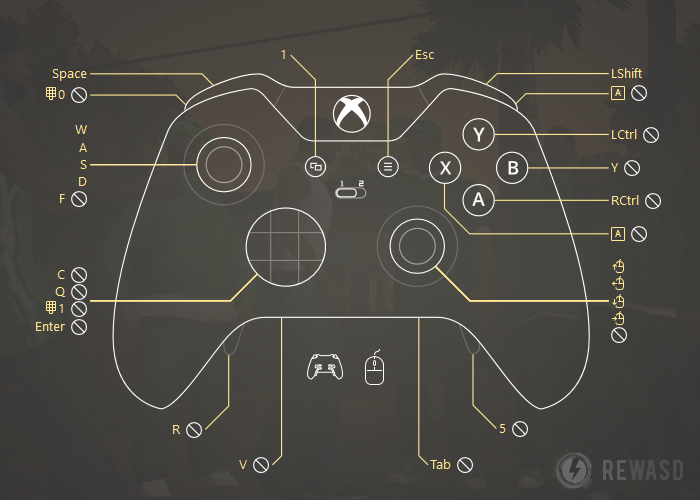 Unfortunately, your awesome Xbox Elite controller is recognized as Xbox 360 by default, and Elite paddles are not active in PC games. Xbox Accessories app — the native Xbox One Elite Controller App — permits to bind controller buttons to paddles (XYAB buttons are set to Xbox paddles by default).
reWASD went further: it's the new Xbox One Elite Controller App that will assign any controller button, keyboard or mouse key to Elite paddles. That expands your possibilities while you map controller to keyboard.
Let's compare customization features reWASD 1.4 and Xbox Accessories app offer to Xbox Elite controller owners:
Why to use our Xbox Controller app?
Xbox Accessories App does hardware mapping for Elite Controllers. Our Xbox Controller App also remaps controller to keyboard keys and mouse clicks and moves. And that doesn't mean reWASD is not doing button mapping! It does, and even more: you can also remap Menu, View and Xbox (Guide) buttons with reWASD, which you can't remap with Xbox Accessories.
As a truly Xbox Elite app, reWASD permits you to map controller buttons to Elite paddles. Xbox Accessories app permits to bind any controller button to Xbox paddles, and reWASD can assign any keyboard key or controller button to Elite paddles. Check out the detailed guide and learn more about button mapping in my previous post.
Truly Xbox Elite app: customize paddles the way you wish!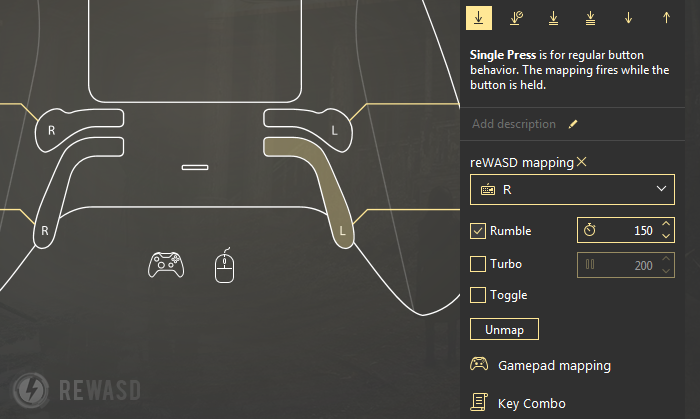 Remapping Xbox One Elite controller becomes possible with reWASD: you can reanimate your Xbox Elite paddles and bind any keyboard or mouse key to them. Xbox Accessories App permits you duplicating controls to paddles. reWASD makes paddles unique and independent. Learn more about how to map Xbox paddles with reWASD.
Map sticks and trigger zones to keyboard
Zones work for in-game action that requires two buttons to be pressed. A very comfortable feature that makes gameplay unintentional: check out the tips for playing first-person shooters and using stick zones to learn more.
What's new with sticks? Invert both X and Y-axis, set stick response and dead zone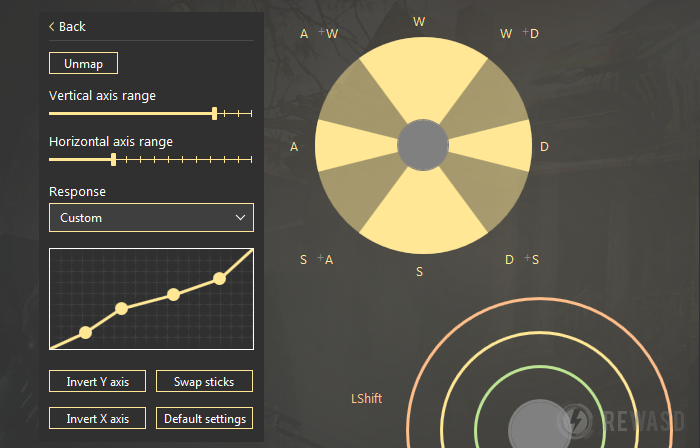 These three new features were highly demanded, and reWASD team added these options to 1.3 version to our Xbox Controller App. reWASD takes remapping controller to keyboard to the other level. Now you can invert both X and Y-axis on sticks, choose the appropriate profile with the stick response settings on Xbox Elite Controller, and adjust the dead zone. You'll find more information about what's new for sticks in reWASD 1.3 — a full description of new features and detailed guide.
Not only powerful but easy-to-use Xbox Controller app
Hooking feature was implemented to make remapping keyboard process quicker. While editing or creating config press the controller button you want to remap keyboard key to, and then press the keyboard key that needs to be mapped (instead of scrolling the whole list).
Unmap (turn off) controller buttons
Using our Xbox One Elite Controller App, you can unmap the action that was set for your Xbox Elite controller by default, so double actions don't occur. Find out more about how to unmap controller buttons with reWASD to avoid in-game crashes.
Xbox 360 maintenance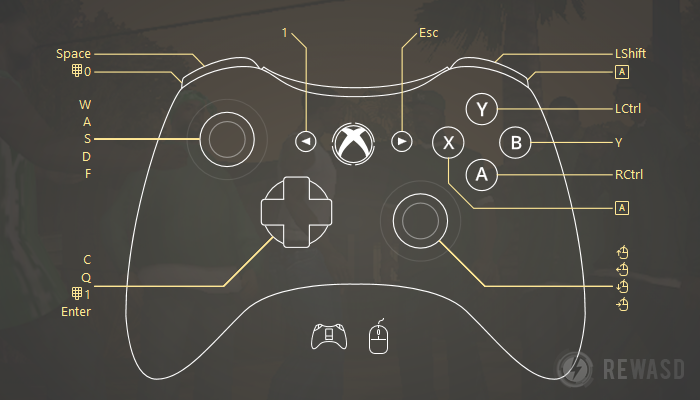 Since the first reWASD version released, we've been receiving this demand at least 4-5 times a week on our Facebook page from you, folks. reWASD 1.3 made it possible to map Xbox 360 controller to keyboard while using an interactive interface and handy functional management our team provides. By the way, now you can also remap PS4 and PS3 controllers with reWASD!
Adjust mouse emulation
Starting with reWASD 1.4.1, you can fully customize and adjust the way your emulated mouse acts during gameplay. There are four mouse settings you can tune: sensitivity, speed, acceleration and scroll speed. Learn more about how to use Xbox Controller as mouse.
Increase the number of possible assignments
The coolest feature or our Xbox One Elite Controller App that appeared recently was the Shift mode. You can add up to 4 Shift buttons that will expand the number of possible assignments from 10 to 50 (on Xbox 360 or One) and from 14 to 70 (on Xbox Elite controller). Learn more about these great opportunities in Shift mode post and don't hesitate to try it yourself!
Is Xbox Accessories App not working on your OS?
We all know that Xbox Accessories App is not working on any OS except Windows 10. What if you're using Windows 8 and you need an Xbox Elite App or Xbox Controller App (for Xbox 360 or One)? reWASD is the rescue! It works perfectly on Windows 7, 8 and 8.1.
Certainly, it's up to you what Xbox Elite App to choose. Remember that reWASD has the best features that can make your gaming experience better!