While reWASD users were remapping controller to keyboard, they've experienced some issues. As you know, all of the controller buttons have native actions assigned to them. So if you use reWASD to remap controller buttons PC produces double input: one from the hardware or native controller support in game, other — mapped with reWASD. And those actions won't perform simultaneously, one of them will be activated randomly, and that's definitely out of the frying pan into the fire. We've prepared a guide of how to map controller to keyboard with reWASD unmaps to fix double input!.
If you hesitate, whether you need to use this option or not, check out the official manual with the examples of certain games where this feature is irreplaceable.
How to remap controller buttons on PC and fix double input?
First of all, let's see how unmaps look like on reWASD screen: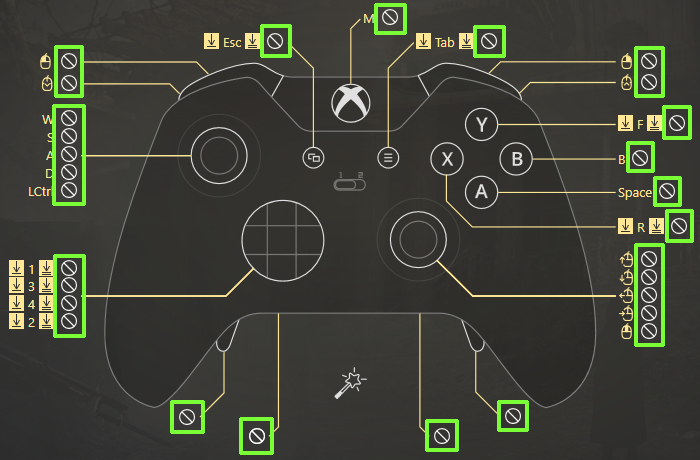 One of the numerous examples is the Fallout 4 config, where the controller is completely unmapped, while keyboard and mouse keys are assigned to the gamepad. You can download and use this reWASD config from our community, it will definitely fix Fallout 4 controller double input.
Good thing is that you can see which controller buttons are unmapped, and which ones are not. reWASD can unmap bumpers, stick clicks, sticks and axes, D-pad buttons, face buttons (XYAB), Menu, View and Xbox buttons and Elite paddles. Basically, you don't even need to download Xbox Accessories app to remap controller buttons PC sees as double input, you can do it and map controller to keyboard with reWASD only.
Now let's see what actions are required to unmap buttons and fix double input:
Download and install reWASD. It's free to try, so it would be easy to start.
Connect your controller to PC. Once connected, you will see the icon appear in the lower-left corner, and you need to pick the controller you want to remap.
Create a new profile, the config creates automatically. Start remapping!
Do reWASD mapping now: remap controller buttons aka PC keyboard or mouse key to the chosen controller button. Remember, that reWASD has a handy feature: you can simply press the controller button and it will be chosen in reWASD as the one you want to remap. Same story with keyboard keys: to quickly assign the binding just press the button.
Starting with reWASD 5.2, you can use the magic wand to Unmap the whole controller in only 2 clicks. Here is how you can do it:

D-pad has an option to unmap all the directions in one click:

But if you want to unmap only one of them, pick the button you want to unmap, go to Gamepad mapping, and choose the Unmapped option from the list. As a result, you have your controller button unmapped!

Return to the main mappings, remap controller buttons if needed, click Apply. Remap has been activated!
To create a config that will perform properly you need to be attentive to fix double input, for your PC gaming experience to be the best. While you map controller to keyboard, you re-assign the actions from controls to keys, so in most cases unmaps are the best option.
We recommend you to use this feature every time to fix double input, so reWASD mapping will overlap the native controller support.
Check out the video about reWASD and Unmaps. Make sure you are subscribed to our YouTube channel where there are lots of other useful videos.