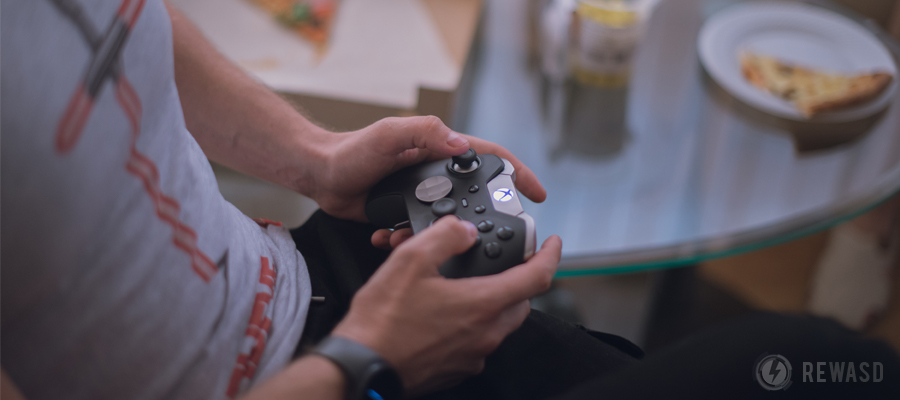 We bet you've expected this blog post to appear. It means that the new version of the most powerful PC controller software rolls out. Meet reWASD 2.0: renewed design, more controllers to support, more buttons to remap, the tray agent that makes using reWASD even handier and many more awesome features to explore. Lots of stuff, huh? Now it's time to make it clear and find out what exactly the update brings to us.
Redesign
Brand new design built from scratch provides not only fresh-looking interface but also smooth and intuitive user experience. We've re-arranged all the elements to make controller remapping and adjusting process easier. That's why it looks very different from the one you've got used to: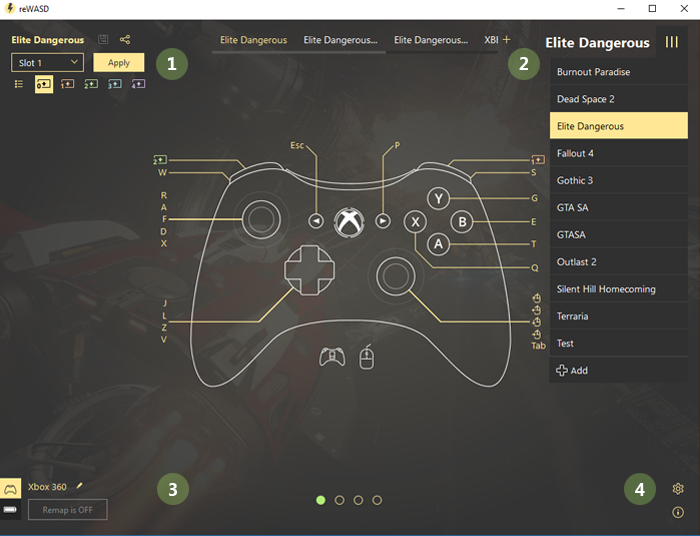 Top left corner: edit config name, save and share all the configs which belong to the current game profile, add new config, save it to the selected slot (keep reading to know more :) ), apply changes, switch view between mappings and descriptions or between main mappings and shift modifiers
Top right corner: the list of available profiles
Bottom left: all connected gamepads and remap OFF/ON button. You can change the names, see gamepad battery level if available, and manage your configs for the active gamepad
Bottom right: preferences and features information
All the main mappings can be configured within one window: click the desired gamepad control and customize it in an opened frame. We care about gamers time, so we made presets with the most common mapping patterns like W A S D or arrow keys applicable in one click to sticks, D-Pad or face buttons
You can optionally add descriptions for all mappings to make config more clear for other users
Switch between gamepad front and back views and access to the emulated mouse settings by clicking on icons below the gamepad image
It took me about 5 minutes browsing through the reWASD interface to understand what's going on with the new design of this PC controller software, and a whale of time to enjoy how great and comfortable it is! Hooking feature still works, and it's even more demonstrative than ever.
PS3 and PS4 controller support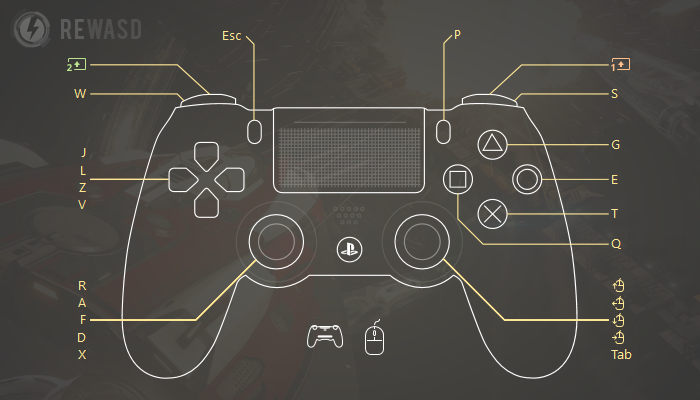 A huge step towards users requests: now you can change the key bindings of your DualShock 4 controller on PC! Same story for the PlayStation 3 controller — it is now available and remappable in any way you need. The functionality is the same as for Xbox 360 or One, and all the configs from reWASD user community will work on your DS4 and DS3 controllers.
Tray agent (autoremap after rebooting)
This feature was in high demand for months — autoremap after rebooting your PC. To be more specific, it restores the condition of reWASD before the restart. Thus, if you left applied mappings and remap turned ON — it will be ready for use right after reboot. If it was OFF — it will be left OFF. You can configure these settings in preferences.
Home button is now remappable!
reWASD mapping now permits to remap the Home button. Congrats! Your gamepad is fully remappable :)
Trigger deadzones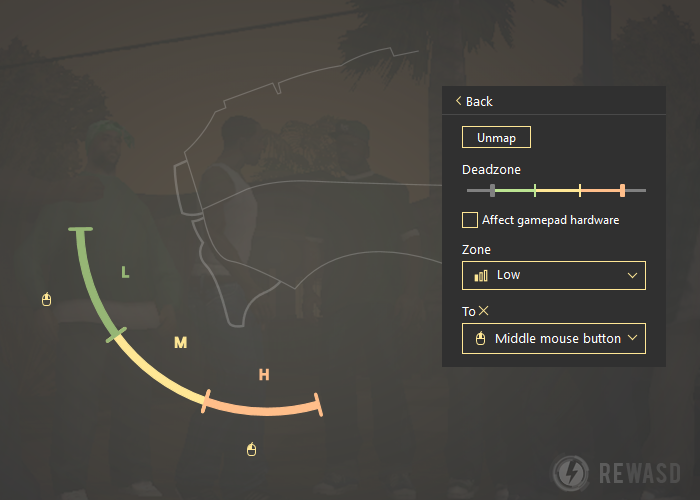 Remember the feature that permits you to change the stick deflection deadzone? A similar thing rolled out for triggers as well. With our PC controller software, triggers now are even more customizable!
Shift mode novelties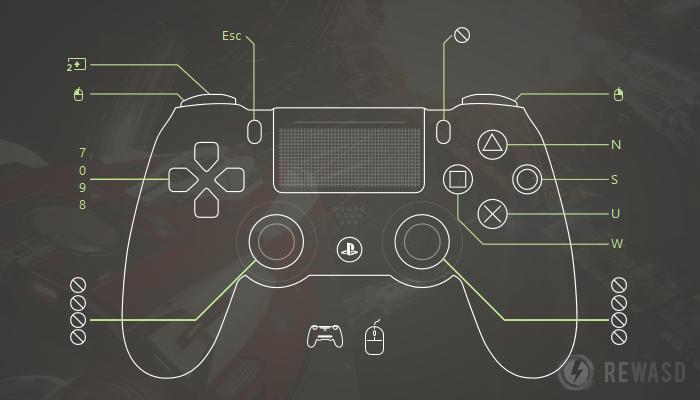 To make it clear, shift mode is the possibility to assign a completely new set of bindings once the shift modifier button is pressed. You already know that if you leave the button mappings unchanged inside the Shift, the main mappings will be reproduced (once you press those keys along with the shift modifier button).
Now guess what? You can turn off the buttons inside the Shift modifier by picking the "Do not inherit" option. Thus, when the Shift modifier is pressed, nothing will happen. This can help to avoid accidental button clicks.
One more cool option is unmapping inside the Shift. If the game has partial controller support and you want to mute the native controls so they won't work inside the shift — you can unmap the controller button, to avoid unwanted clicks.
Another huge part of reWASD 2.0 update are advanced features which can make your remapping and gaming experience even more personal with the help of this best PC controller software. Did you know about that reWASD supports two types of mappings: reWASD (keyboard keys to controller keys) and hardware (controller buttons to controller buttons)? With reWASD 2.0, hardware mapping becomes available for all none-Xbox-Elite owners, and it's super useful for managing the native controller support and the gamepad behavior.
Here's the list of paid features that are available for all supported controllers (Xbox Elite, Xbox One, Xbox 360, DualShock 3 and DualShock 4):
Note that you have a 3-day trial for each feature, you can test it and decide whether it's the thing you've been missing :)
Combo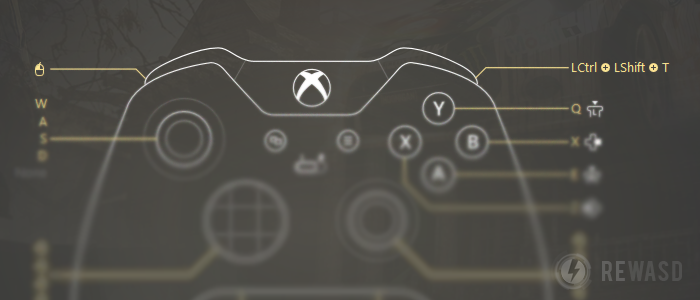 This great feature permits to assign the combination of up to 4 keyboard keys and mouse clicks to one gamepad control. As a result, once you press the controller button — pre-configured set of actions performs, like if these keys were pressed simultaneously.
4 slots
reWASD became even better, and this PC controller software now can store up to 4 configs on a single controller. It's super easy to use: pick the config first, choose the slot to assign the config to and press "Apply". You can't see the slots if the remap is deactivated, so if you've saved the first config to the slot you'll see all the other ones right away. The shortcuts that are necessary to switch between slots are indicated in the tooltips:

You can pick the needed slot from the GUI directly as well: when you choose a certain slot you'll see the config that is assigned to it.
You can't switch to the empty slot with your gamepad, nothing will happen if you try to. This is possible to do from GUI, you just pick the slot that has no config assigned to it, and then apply a preset you need.
Using a 360 controller on PC may be way easier if you use the right PC controller software: now hardware mappings are also available on Xbox 360, Xbox One, DualShock 3 and DualShock 4. The following features arrive to mentioned controllers:
Gamepad mapping: unmaps
Hardware mapping is super useful in case if you want to swap the native controls without changing the whole scheme.
Unmaps serve to fully overlap the native in-game controller support and set your own bindings that will perform once you press controller buttons. Now you can use a controller on PC for games with native controller support and set your custom layout.
Unmap stick axes
Now you can totally customize the emulated mouse with reWASD, set mouse directions and even unmap the stick! The biggest perk of this feature is that you can tune every single emulated mouse property (sensitivity, speed, acceleration, and scroll). As a result, your own and completely custom stick is ready to go.
Invert Y and X axis
Sticks inversion is now available for all controllers as reWASD advanced feature. If your gameplay experience depends on vertical axis inversion, this feature will save your day! Just try configuring the gamepad with the best PC controller software.
Stick response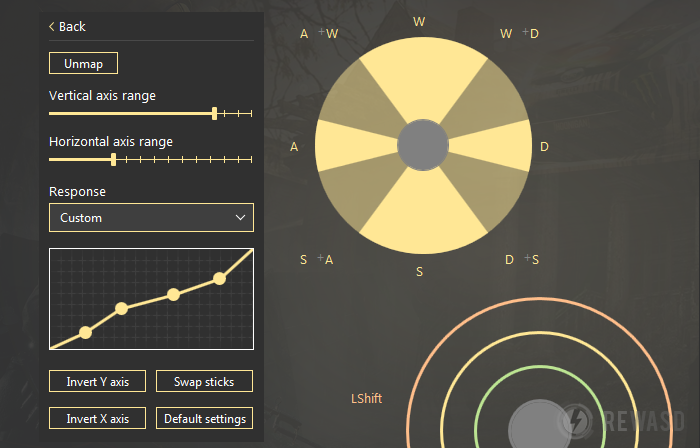 New sticks settings become available for Xbox 360, Xbox One, DualShock 3 and DualShock 4: change the stick response the way you need for certain game. You can choose the most comfortable one out of four that we offer (Delay, Aggressive, Instant, Smooth). If you are in doubt about whether you need this setting customized or not, we suggest you try each of these profiles and feel the difference.
Sticks and triggers hardware deadzones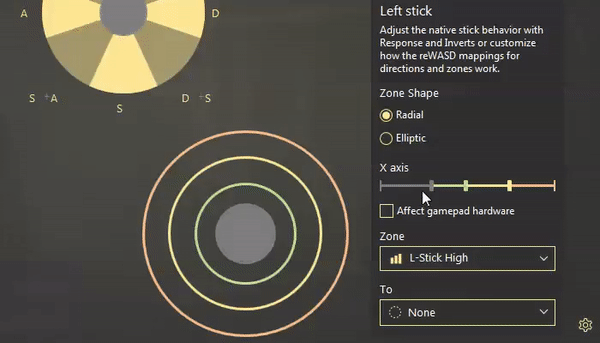 If you're using your controller to play games with native and full controller support, you can tune the deadzone, to set the sticks and triggers deflection angle where nothing happens wider or tighter.
If your controller is an old pal that went through fire and water with you, you can make analog controls less sensitive (if the controller is not new, sticks and triggers are loosened and can report unwanted actions even if you're not touching them).
If it requires some effort from you to activate analog controls — reWASD allows you to make them a little bit more sensitive.
Note: advanced (hardware) mapping for Xbox Elite controllers is available out of the box, except for the hardware sticks, triggers deadzones and unmaps for stick axes. You can purchase those features to ameliorate your gaming experience!
It was a long way to produce the completely new version of PC controller software you see on your screen right now. We sincerely hope that we did the best to make your gaming experience better and handier, to reduce all the inconveniences and to let you customize the controller in full. Reach out to us wherever you feel comfortable: Discord text chat, on Facebook, or on reWASD Forum. Make sure to follow us on Pinterest, Reddit, and YouTube to keep your hand on the pulse.