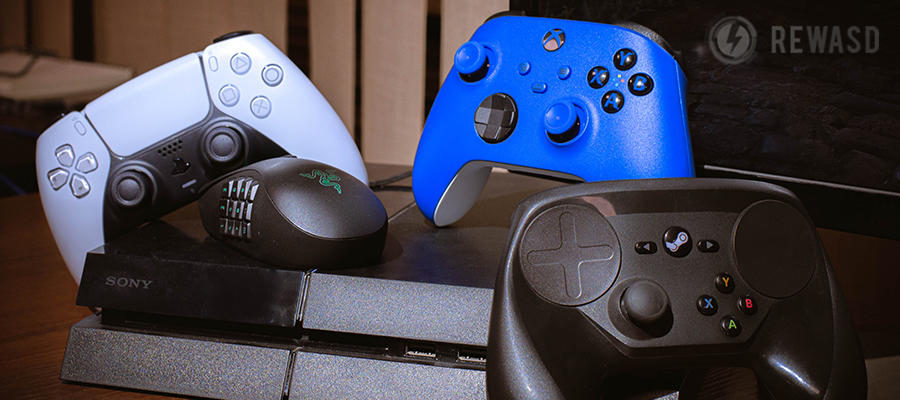 This was quite a tough year for all of us, so we hope that this release will make the 2020 finale better for you. Our team is super happy to provide you with an External Virtual controller feature in particular, as well as Xbox One X support, basic DualSense binds support, recording stick and trigger moves, and other features. Let's break down this release and have a brief overview of what's up:
External virtual controller: use keyboard and mouse on PlayStation 4, phones, other PCs
With a little help of a Bluetooth Adapter, you can create a Virtual controller that will be visible to other devices. Once that part is done, connect the controller to the console, PC, tablet, phone, and enjoy playing! That said, you can remap any devices reWASD currently supports, and use them to control the external gamepad on other devices.
Bluetooth Adapter would be the wireless solution, which may have delays depending on:
how strong the adapter is
how far you are from the target
how many devices are connected via the Bluetooth Adapter that you use with reWASD
Make sure to check out the manual for Bluetooth Adapter set-up, there are a lot of nuances we already tested and want to pass to you :)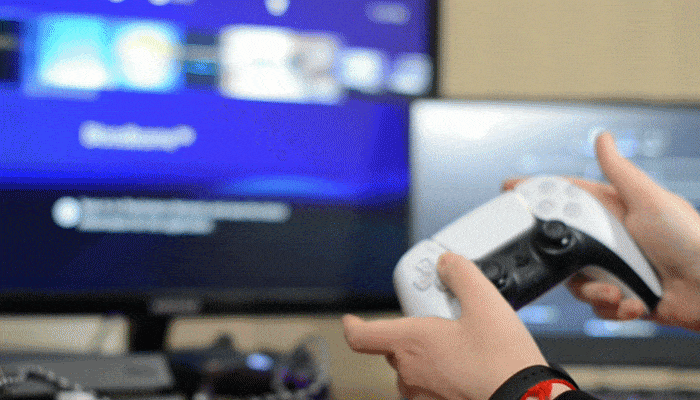 There is also a wired solution, you can use the External Virtual gamepad with the GIMX Adapter while connecting to other PCs and PlayStation 4. It also takes time and patience to set up, but you will have noticeably less input delay compared to a Bluetooth connection. The manual about GIMX Adapter is a must-read in this case, especially if this is the first time you have heard about GIMX.
To sum up this part of the post, this will take some time, but it's worth it. Check out the video demonstrations both for Bluetooth Adapter and GIMX Adapter set-up, they will shed some light!
Support for the new devices incoming!
Starting with reWASD 5.6, you can use Xbox One X with reWASD in a full swing. Next one comes DualSense controller, in a half-swing: remap its basic controls and LEDs. More possibilities will arrive in the future releases! One more little improvement, now it's possible to use GameCube controllers with Nyko adapters.
Key combos coming to the Sonic-fast level

We will no longer restrict pauses with 10 milliseconds, so if you want the combo to reproduce THAT fast, you can set the pauses multiple of one millisecond. Our team still suggests to make sure the pauses are not too short, checking in-game is always a great way to go!
Gyro calibration
Calibrate the Gyroscope manually if you feel that it behaves strangely in game. By default, gyro calibration is set to auto, but if you prefer to re-calibrate it, follow these steps:
Connect the controller with gyro to PC
Choose it in reWASD, lower-left corner
Right-click the highlighted icon, and choose Calibrate
Follow the steps in the wizard
Amazing! Gyro is ready to roll, pitch and yaw for you
Make sure not to rotate the controller when it's being calibrated. It doesn't matter in what position your controller lies on the table, the main requirement is 0 rotation on all 3 axes. Wonder what those axes are? Check out the manual about setting up the Gyroscope with reWASD!
More options for Sticks and Triggers in Combo editor
First off, with reWASD 5.6, you can record stick and trigger moves in the combo editor. Pretty cool, huh? And also, you can set the Trigger deflection in combos too, with 0 to 100 range, similar to stick deflection.
New functionality for DS4 Touchpad
Set the Tap and Click mappings for the touchpad, and use it as a mouse. We know that the second one was very anticipated, have fun ;)
Make sure to check out the full list of fixes on our release notes page, and if you have any suggestions or comments, we're always glad to chat. Reach out to us wherever you feel comfortable: Discord text chat, on Facebook, or on reWASD Forum. Make sure to follow us on Pinterest, Reddit, and YouTube to keep your hand on the pulse.
Happy holidays, stay safe and enjoy your games!